"I have been very pleased with the performance of this projector. Set up was very easy and have used it in a couple of different settings and picture quality and brightness were satisfactory." - Trevor Bauma ★★★★★
Forget crowding around your tiny laptop screen or TV!

• True Theater Experience -
Unlike projectors just a few years old, our Mini Projector uses the latest technology, eliminating those dreaded video quality problems like color decay, jagging and the rainbow effect. Expect a smooth, bright, theater-like performance from day 1 to year 5.

• NeverDie Lamp - Other projectors of this quality need frequent, pricy bulb replacements. But with over 30 000 hours of lamp life, you can be sure that our Mini Projector will never need a replacement in your entire lifetime, saving you hundreds of dollars.

• Plays Anything – Our Mini Projector supports every movie, music and image file format used today (AVI, MOV, MKV and 25+ more), so you can enjoy your collection of movies, photos and even powerpoint presentations no matter what.
• Connect with laptops, USB drives, DVD players, Amazon Fire TV Sticks, and Xbox/PS4. When combined with an HDMI adapter, enjoy connections with smartphones, computers, or tablets.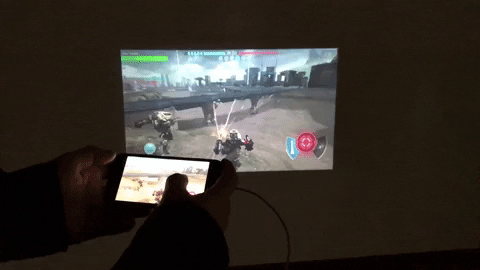 • Zero Warm-Up - Unlike ordinary projectors with traditional lamps, the Mini Projector needs no long, boring warm-up time. Just switch it on and it's ready to go with bright, pixel-perfect images on demand. No need to leave your friends or colleagues waiting.

• Eco-Friendly - With it's low energy consumption and no wasteful, mercury-filled lamp to replace, ours is much better for the earth, so you can feel good about your purchase.

What's included: You will receive the  Mini Projector , Power Adapter, 3.5mm to RCA AV Cable, Remote Control, User Manual, 1 Year Warranty and 15-Days Money-Back Guarantee.